Home Ukraine Dream Hostel - Kiev, Ukraine (Review)
Dream Hostel - Kiev, Ukraine (Review)
Andrescoto87 3:00 PM 2
Dream Hostel in Kyiv is part of a brand of Hostels in many places around East Europe.
I had the opportunity to stay at the Kyiv Hostel and I will tell you why I am in love with this place.
Dream Hostel is really close to most of the important places you got to know in Kyiv and it offers many services like airport transportation when arriving and leaving Kyiv.
You can check also another Dream Hostel which is Lviv and check that all the Hostels have high rakings and are good recommend when traveling.
Location and Security at Dream Hostel Kiev
The location of the hostel is close to many places of interest in Kyiv, like the Funicular that goes from Poshtova Ploshcha to the St. Michael's Golden-Dome Monastery.
And places like the Friendship of Nations Arch.
From the Friendship of Nations Arch, there is a new pedestrian and bicycle bridge that has been opened last May (2019) and ins the newest attraction in the city, since is made of concrete, iron, and glass, 212 meters long.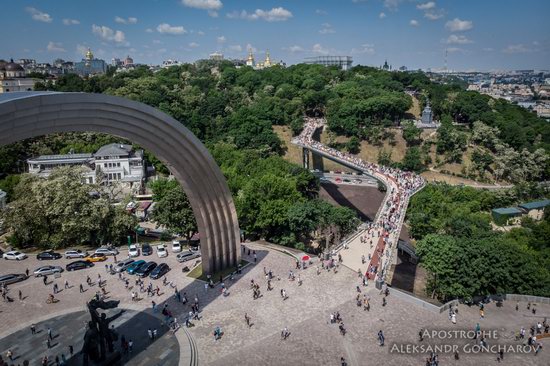 Alexander Goncharov
Also is close to the Kontraktova Ploshcha Metro Station which can take to the Maidan National Square Station, that in the recent decades has been an important part of the history of Ukraine with events like Orange Revolution.
Cleanliness and Facilities at Dream Hostel Kiev
The place looks wonderful when you look it from outside and in the interior is even better. The location where the hostel is is a quiet location there is not that much noise outside.
The room where I stayed was always clean and the bathroom areas are really clean. What I saw in the pictures when I booked is the same what I found there.
They offer also laundry service, and there is a cafe known as Cafe Druzi where you can have a traditional Ukranian breakfast and also taste the famous beer in Ukraine which is Zlato Beer.
The place has wifi and also offer transport when you need to arrive and leave the hotel. Honestly really useful when the Boryspil Airport does not have a connection to the city rather than car, taxi or bus. So, is a big help to have this kind of service.
Atmosphere and Staff at Dream Hostel Kiev
Well even though in my opinion the atmosphere looked great I was not able to make any friend there. Besides myself being shy on my trips when I go by myself, I have found many kind people and the staff od the Dream Hostel had been really friendly and open to help me when I need.
Also, they know really good English and the guest experience is excellent, especially when you don't manage any Ukrainian or Russian language.
I'm still learning Russian to have better communication skills 😅
Value for Money at Dream Hostel Kiev
With all what you have read, the value for money really worths to stay in the Hostel. I stayed there 3 nights and paid 1440 UAH ($54.14 approx) and with the quality of service it really worth the money.
Why I stayed at Dream Hostel?
I was traveled to Kyiv for the Eurovision Song Contest held in 2017, and for it was the 1st time that I manage to cross the Atlantic to accomplish my dream that was going and feel the experience of a Eurovision Song Contest.
Despite the fact that I was extremely shy and made few friends when experiencing the contest live. I am really grateful about that experience and when I was looking for a place to stay I though in an Airbnb that was really far away from the places I need to go.
And when I found Dream Hostel and looking that the place meets all my expectations before the trip, I was amazed and when meeting the time of the reservation my expectations were succeeded.
So if I had the chance to go to Kyiv I hope to have the chance to stay there or a least to have a meal at the Cafe Druzi, especially know that Ukraine is getting more chances of attraction due to the series in HBO Chernobyl.
If you like this review comment and share to let others known about this place. 😏
Note to Visitor
This post may contain affiliate links see affiliate disclosure here, which means I may receive a small commission for clicks made through my links.